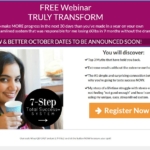 I have an online marketing secret to share with you in this post. Well, maybe not a secret exactly but, it's something very few internet marketing consultants will share with their clients. So, here goes…
The more personal your online business is, the harder it is to market it on the web.
From life and love coaches to nutrition and wellness coaches, from personal development gurus to psychologists and therapists, and even from doctors to dentists, overcoming the inherently impersonal nature of the internet is your single greatest challenge.
The Internet Doesn't Care About You
Sorry to burst your bubble but, Internet Explorer, Firefox, and Chrome could not be more detached from your wants and needs.
Understand, I'm not talking about the people on the internet here, I'm talking about the online environment itself. Like newsprint or the paper used in magazines, the tools used to share information are neutral to their subject matter. The same is true of the code and electrons that make up our online world. They could not possibly care less about you, whether you provide a personal service or are looking for one.
Is that sobbing I hear?
Dry your eyes all you networked gremlins. This is the kind of helpful, real-world information that can make a difference in your internet marketing strategy.
Transparency + A Personal Message = Internet Marketing Success
If you offer personal services, you need to recognize the problem described above and accept that overcoming the impersonal nature of your marketplace – the internet – requires a very specific approach: transparency plus a personal message.
What do I mean by this?
Transparency – Showcasing you, your personality and your vision, is the first step to moving past the negative effects of an environment that is impartial to your needs, and the needs of your potential clients. For the most part, they have no idea who you are and are usually disinclined to spend their hard-earned dollars to work with you. in fact, skepticism is another factor you must overcome.
To accomplish this, you need to be willing to put yourself out there in ways you may find uncomfortable at first. However, if you refuse to be as open and empathetic as possible on your website, you're going to struggle mightily to find clients.
Personal Message – The messaging you offer to your audience absolutely must reflect their mindset and pain points. They will need to know, at a glance, that you *get it* and understand what they are going through. Only then will the solutions you offer have any meaning to them.
A "been there, done that" or "I've been where you are now" approach tends to resonate with those seeking personal coaching, especially. Yet, the only way to ensure you're speaking clearly to your target audience is to perform due diligence and do appropriate market research.
Not to burst anyone's bubble but, the internet can be a truly brutal pace to do business. Not only is it indifferent to one and all, it's also unforgiving, and the number of people who've had the "entrepreneurial spirit" beaten out of them because they refused to accept this are in the millions.
If you're a personal coach or other personal services provider and trying make a name for yourself online, it's critical that you not let yourself become a victim of the apathetic nature of the internet. Instead, take charge and forge ahead with a positive personal message and share yourself freely and openly.
Need help with your online marketing strategy? Get in touch with me today for your FREE Internet Marketing Strategy Consultation.