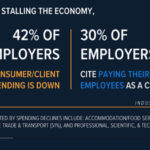 New sobering research from the Society for Human Resource Management sheds light on coronavirus workplace impact.
The most recent research from the Society for Human Resource Management (SHRM) sheds light on just how significantly employers and workers have been impacted by the coronavirus. For instance, 40 percent of employers have had to shut down certain aspects of their businesses, while 83 percent have adjusted their business practices, according to the survey of more than 2,200 human resource professionals. In addition, 71 percent of employers said they are struggling to adjust to remote work, while 65 percent said that maintaining employee morale has been a challenge.
Industries Hardest Hit by Coronavirus
Assessing by industry type, it's hardly a surprise that the survey found that the food and hospitality sectors have experienced the most significant setbacks. Eighty-two percent are shutting down certain aspects of their business, while 76 percent are laying off employees and one-third are cutting headcount with no intent to rehire.
You can download the full SHRM findings on coronavirus workplace impact by clicking on the link below.
Source: https://www.shrm.org/hr-today/news/hr-news/Pages/New-SHRM-Research-on-How-COVID-19-is-Changing-the-Workplace.aspx 
Are unexpected challenges leaving you frustrated? We're happy to hop on a call to provide some no-obligation guidance!